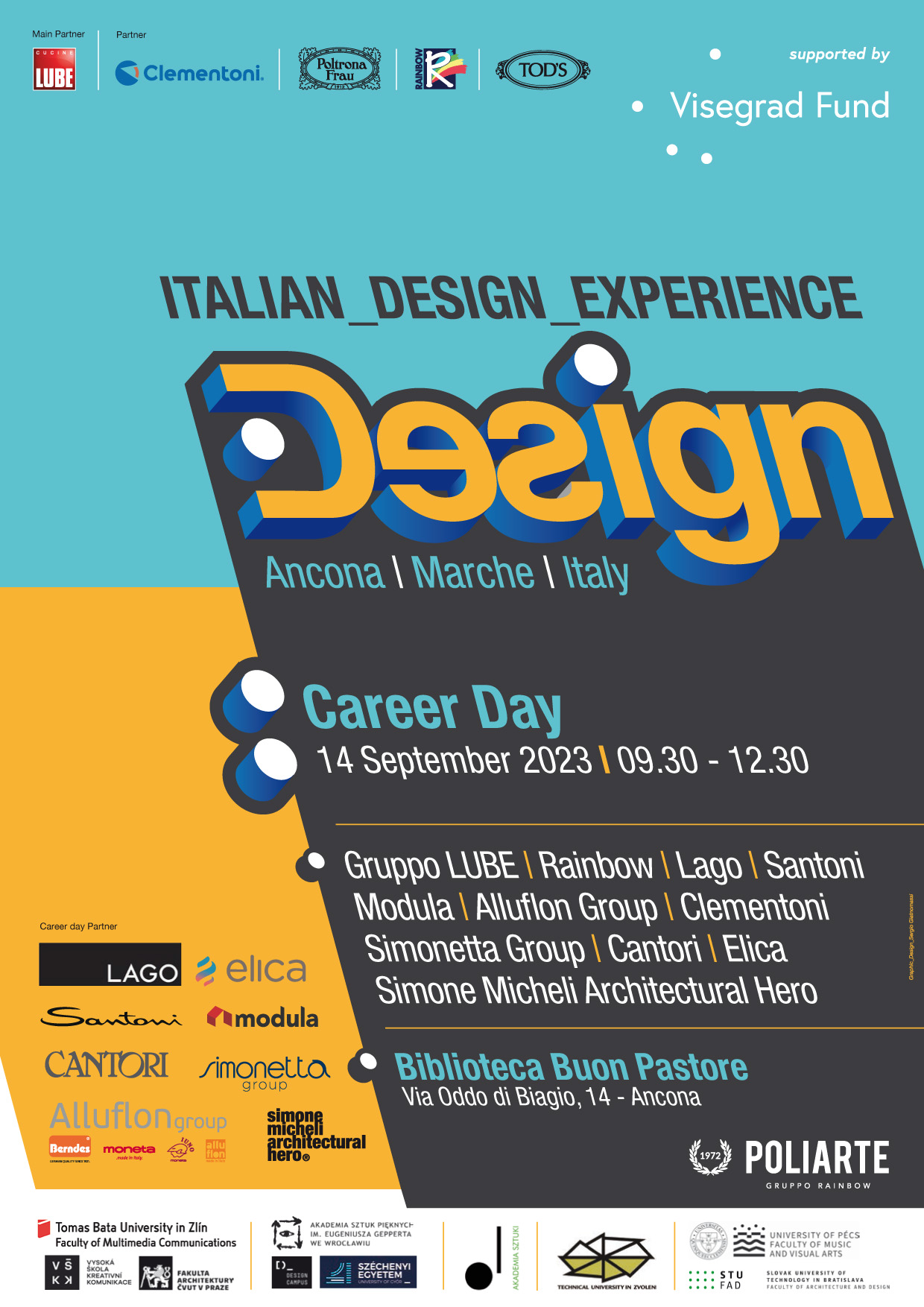 Italian Design Experience 2023 – Visegrad Fund | Poliarte Accademia di Design of Ancona
A dynamic, contemporary, and intercultural one-month blended journey – conceived and organized by Poliarte Design Academy of Ancona | Italy and fully sponsored by the Visegrad Fund – that explores the many different aspects of Italian design and manufacturing, which take place in the Marche, a region that encompasses all the distinctive features of the Italian peninsula in terms of production, fine art, history, architecture and landscape.
18 design and applied art students from Czech Republic, Hungary, Poland and Slovakia attended 2-week online courses plus 2 weeks in presence in Ancona to discover how the scientific and specific methodology of the Italian design process can respond to current regional and societal needs of V4 students.
The 2-weeks online course plus 2-weeks on site in Ancona – with two different majors in Product | Interior design or Fashion | Accessories design – were a unique opportunity to discover how the scientific and specific methodology of the Italian design process can respond to current global and societal needs. It's a condensed version of the course, featuring all the essential elements of the Poliarte Academy of Design's experience and teaching methodology, enriched to experiment with project-work and on-site visits under the direction of our fully qualified teachers.
An innovative teaching methodology that combines research, innovation, hands-on projects and techniques to create real-life solutions that meet the contemporary needs of companies and end-users. Creative and design activities were accompanied by additional work designed to improve teamwork, communication and relationship-building.
The Italian approach to design can be integrated into the strategies and processes of foreign companies, studios and artisans, turning our local expression of society and market transformation into contemporary and socially useful products and services.
History, tradition and age-old methods were combined and improved with a strong innovative drive and fresh, out-of-the-box thinking.
Thanks to the analysis of high-level design connected to the world of craftsmanship and production districts,
V4 students were able to develop their own idea and project, tailored-made for their local fabric and specific customers.
Combining style, ergonomics, sustainability, branding, visual storytelling, business intelligence, and market requests, students developed the ability to decipher what is needed and translate it into meaningful and real products/services for the wellness of their home regions and countries.
Once back in their countries, these young students will act as ambassadors and promoters of good design practices, introducing and influencing their network and future companies and colleagues as to how the Italian way of design can have a positive impact on their businesses.
Here the list of partner academies and universities:
Czech Republic
Czech Technical University in Prague
Tomas Bata University in Zlín
University of Creative Communication
Hungary
University of Győr
University of Pécs
Poland
Eugeniusz Geppert Academy of Art & Design in Wroclaw
Academy of art in Szczecin
Opole University of Technology
Slovakia
Slovak University of Technology in Bratislava
Technical University in Zvolen
France
Strate School of Design
Italy
Poliarte Design Academy
From September 4 to 16, 2023 students had a project work assigned by Gruppo Lube, and the opportunity to visit companies such as Rainbow Group, Clementoni, Poltrona Frau, Tod's Group.
Plus, students had the opportunity to present their portfolio and CV to the HR manager and design expert of the following companies:
Alluflon
Cantori
Clementoni
Elica
Gruppo LUBE
Lago
Modula
Rainbow
Santoni
Simone Micheli Architectural Hero
Simonetta
www.visegradfund.org
www.poliarte.net
www.italiandesignexperience.it