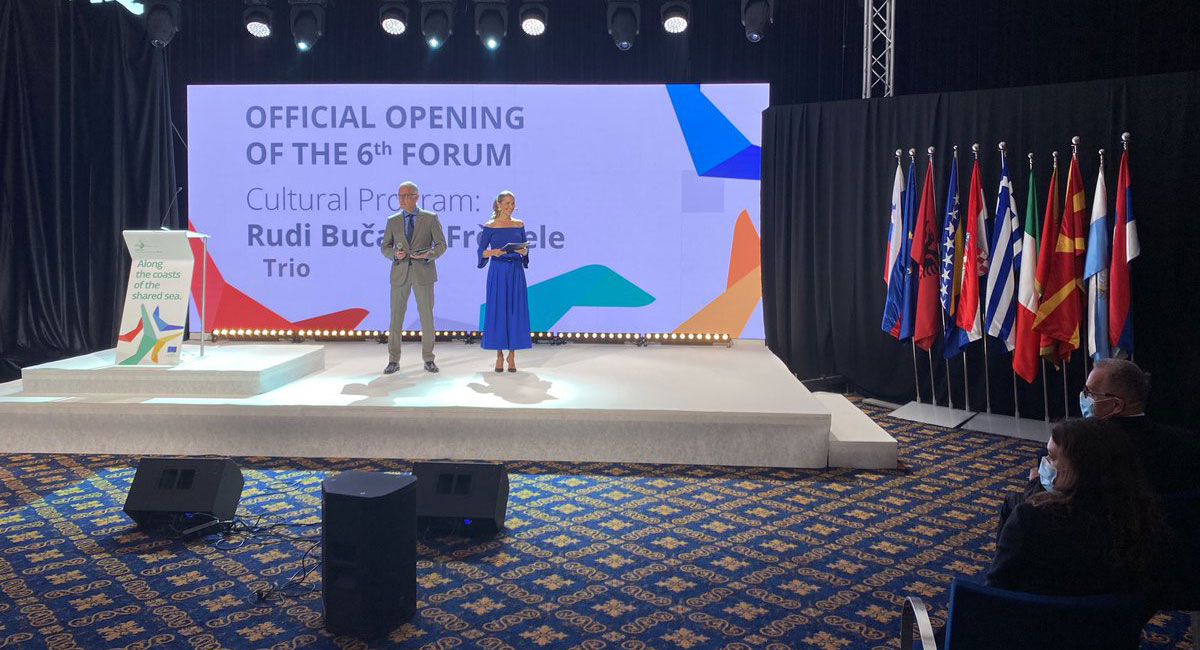 AI NURECC PLUS
Acronym: AI-NURECC PLUS
Full title: ADRIATIC IONIAN NETWORK OF UNIVERSITIES, REGIONS, CHAMBERS OF COMMERCE AND CITIES
INITIATIVE PLUS
Type of action: DG REGIO direct grant
Duration: 30 months (April 2021 – September 2023)
Budget: €1,2 million
Partnership:
– Coordinator: Conference of Peripheral Maritime Regions of Europe (CPMR)
– Applicant n°2: Adriatic Ionian Euroregion (AIE)
– Applicant n°3: Forum of Adriatic and Ionian Cities (FAIC)
– Applicant n°4: Forum of the Adriatic and Ionian Chambers of Commerce (FORUM AIC)
– Applicant n°5: Association of Universities of the Adriatic Ionian area (UniAdrion)

AI-NURECC PLUS, as a preparatory action and spin-off of the AI-NURECC Initiative, will capitalise on the results
of the latter and aim to enhance Regional and Local Authorities' appropriation of the EUSAIR main
objectives and opportunities, by promoting an efficient participatory and bottom-up approach.

It is expected to support the implementation of the EUSAIR cross-pillar topics: "Research and Innovation"
and "SMEs Development" and "Skills Development" and, therefore, to support entrepreneurship,
transnational clusters, and digital innovation hubs activities for the EUSAIR.
Special attention will be paid
to Youth as a strategic target group for the sustainable development of the EUSAIR area, also through
initiatives addressed to sport, integration and social inclusion, tools that are expected to further encourage
community cohesion and solidarity in the area.

These actions could support the post-pandemic recovery by offering new solutions and platforms for
cooperation in the EUSAIR area. To this end, AI-NURECC PLUS will support digital and green transition, a key
component for the recovery in the Adriatic-Ionian region, mainly through digitisation actions aimed at young
people.

AI-NURECC PLUS also aims at encouraging multi-actor networking and collaboration among representatives
of the private and public sector and civil society to foster coordination among EU, national, regional, and
local policies to develop Circular Economy. Through their participation in the AI-NURECC PLUS activities (e.g.
conferences) all potential beneficiaries will learn, among other things, how to improve the setting up of
projects in cooperation with their partners from other countries, not only for the programmes focusing on
the EUSAIR area but a wider range of EU programmes. It will, therefore, serve as an incubator for further
synergies and collaborations.
In this context, AI-NURECC PLUS will operate in the following fields: Sustainable Tourism, Cultural and
Creative Industries, and Circular Economy.
Regarding the aforementioned topics, the tentative (to be approved by the European Commission's DG
REGIO) includes the following: 
• ORGANISATION OF NINE HIGH-LEVEL CONFERENCES: One high-level conference involving MEPs,
European Commission's high representatives and EUSAIR National or Pillar Coordinators will be
organised in each country participating in the EUSAIR. These high-level conferences will contribute
to a concrete mapping of relevant actors and stakeholders across the EUSAIR region and will equally
focus on the topics covered by AI-NURECC PLUS. 
• TERRITORIAL CHALLENGES and DEVELOPMENT OF SPECIFIC STUDY: AI-NURECC PLUS will address
the territorial challenges in specific Adriatic-Ionian territories (mountains, islands and sparsely
populated areas). In this respect, it will develop a specific study on to what extent the EUSAIR and its
Action Plan contribute to tackle these territorial challenges by promoting sustainable development
and growth. This study will be coordinated by the partnership (all partners will contribute under the
leadership of the CPMR) with the support of an external expert and will provide input and concrete
proposals so that the EUSAIR and its Action Plan could better tackle the territorial challenges in the
region. 
• CONTRIBUTION TO THE IMPLEMENTATION OF THE CULTURAL AND CREATIVE REGIONAL
ECOSYSTEMS (CCRE-S3) THEMATIC AREA'S OBJECTIVES in the EUSAIR area: The thematic area aims
to bring together stakeholders from this sector, acting as a catalyst for change in other sectors – and
will stimulate invention and progress across area's diverse cultural landscape. CCRE-S3 aims to
overcome the challenges and obstacles the CCI is facing when investing in new products, services and
premises by involving local and regional communities and in particular four groups of professions
(i.e. creative entrepreneurs, cultural heritage professionals, CCI intermediaries and managers,
publisher professionals and professionals of the audio-visual sector) that use, apply and implement
new technologies within the CCI sector. The thematic area will also aim at professionals of the blue
economy fields (e.g. MSP, underwater cultural sites, …). Therefore, the overall objective of this
thematic area is to improve lives, transform communities and local/regional economies, and
generate growth and skilled jobs based on the CCI sector. (Western Greece is the Leading Region in
charge of the coordination of the Adriatic-Ionian region)
Under the Cultural and Creative Industries Action of AI-NURECC PLUS, there is a specific Internship Fund for
supporting youth in CCI entrepreneurship. Three calls will be open to nationals of all 9 countries and the
selection of candidates will be geographically balanced. Moreover, focus will be given to activities/training
path for supporting youth in creating CCI Start-ups in order to enhance the Adriatic-Ionian Region cultural
heritage based on young entrepreneurship and public private partnerships.
AI-NURECC PLUS will keep the Adriatic-Ionian Initiative posted and will systematically convey inputs of key
stakeholders in the work of the EUSAIR/AII presidencies (incl. thematic Round Tables) and EUSAIR TSGs
and/or the Facility Point, and contribute, when possible, to supply the EUSAIR Stakeholders Platform with
specific knowledge and information for its better implementation. AI-NURECC PLUS will also deliver
functional links and synergies with the CoR's AI-Interregional Group and the EP's Friends of EUSAIR interest
group. The CPMR is currently working to revamp its Adriatic-Ionian Task Force and renew the EP's Friends of
EUSAIR interest group.
EVENTS:
The events are divided in the three topics:
The first event on Circular economy was organized by AIE on 26 October 2021. Click here to know more information.
Sustainable Tourism
Creative and Cultural Industries 
The first event on Creative and Cultural Industries was organized by the three FORA on 1 December 2021. Click here to know more information.