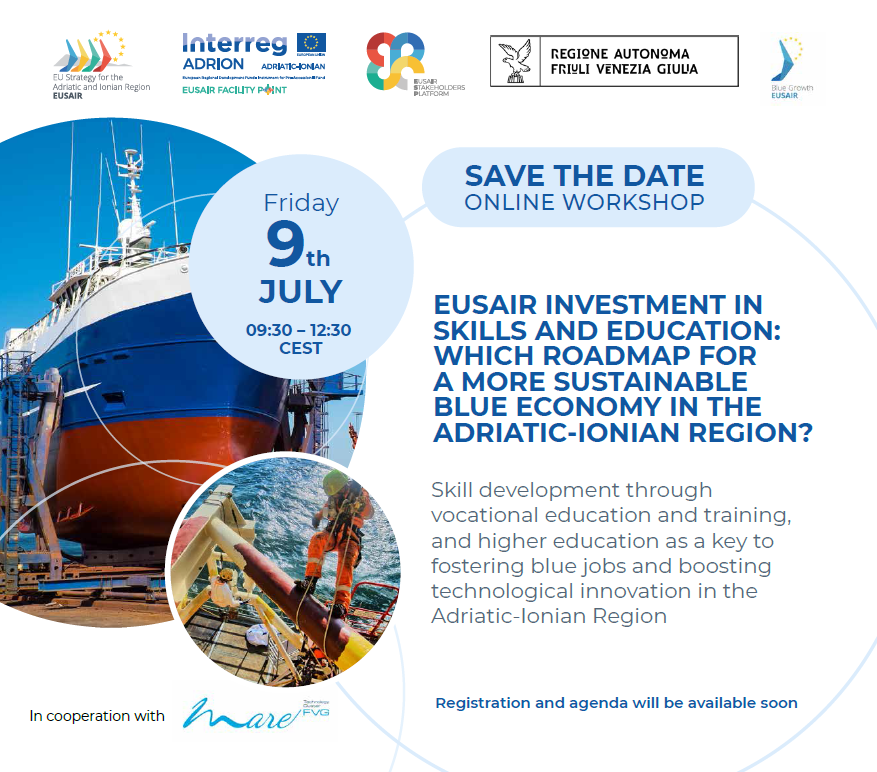 EUSAIR INVESTMENT IN SKILLS AND EDUCATION: WHICH ROADMAP FOR A MORE SUSTAINABLE BLUE ECONOMY IN THE ADRIATIC-IONIAN REGION?
A strong social Adriatic and Ionian Region, the functional area defined by the Adriatic and Ionian Sea basins and home to more than 70 million people living in Albania, Bosnia and Herzegovina, Croatia, Greece, Italy, Montenegro, North Macedonia, Slovenia and Serbia, is the basis not only of its citizens' prosperity and well-being but also of a competitive economy. A skilled innovative workforce capable of shaping and adapting to the EU Green Deal and the Western Balkans Green Agenda will be the key to guaranteeing accessibility to the labour market and future society.
In the framework of the EU strategy for the Adriatic and Ionian Region-EUSAIR and more specifically of the Pillar 1. "Blue Growth" implementation, the Friuli Venezia Giulia Autonomous Region in collaboration with Marche Region, as EUSAIR Facility Point Project Partner, is pleased to invite you to the virtual workshop
The event, which will take place via Zoom Platform (https://zoom.us/j/91349116016) on July 9th, is an opportunity to get to know more about the new approach for a sustainable blue economy in the EU. In addition, it is an occasion to start a joint reflection in the Adriatic and Ionian Region by exchanging experiences and perspectives on the upskilling and reskilling necessary to respond effectively to calls for digital and green transition. There will be a special focus on sustainable ship- and boat-building and on sustainable port operations.