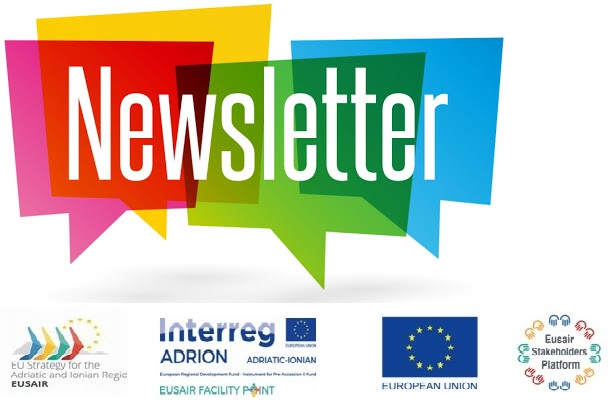 EUSAIR STAKEHOLDER PLATFORM_NEWSLETTER SPRING EDITION 2020
On May 19-20, twenty years ago, the Summit on Development and Security on the Adriatic and Ionian Seas was held in Ancona. It was the first stone on the path that has led to the EU Strategy for the Adriatic-Ionian Region. This newsletter, edited by the journalist Matteo Tacconi*, highlights key passages of this long experience of regional and European cooperation, mapping future developments as well. Through collecting memories and glimpses, the sense of the Adriatic-Ionian cooperation emerges.
This newsletter is promoted by Marche Region, which since 2000 have been fully committed to the Adriatic-Ionian cooperation, in all of its aspects. Marche Region is the Italian Project Partner of Supporting the governance of the EUSAIR: Facility Point – Axis IV ADRION Programme, activated to enhance the implementation of the EUSAIR. Within this framework, Marche Region has launched the EUSAIR Stakeholder Platform (ESP), an enterprise social network that offers EUSAIR's stakeholders new sharing and cooperative tools, among them the present newsletter.
* Matteo Tacconi is an Italian journalist. He has a 15-years expertise in covering the Balkans and Central Europe for Italian and Swiss-Italian radio-tv networks and magazines, both printed and online. www.matteotacconi.com
Here below the index of the newsletter:
From Ancona Declaration to the EUSAIR: the long journey of the Adriatic-Ionian cooperation
"From a 'sea wall' to a bridge. Our mission to recover the historical meaning of the basin". An interview with Ambassador Fabio Pigliapoco
FORA, or the blood of the Strategy
The revised EU Strategy for enlargement, explained by the Special Advisor to the EU "Foreign Minister"
"No country is an island unto itself either". North Macedonia's Deputy Prime Minister speaks
EUSAIR Stakeholders Platform Activities
Click here to read the 1st EUSAIR Stakeholders Platform Newsletter